Here's what some people have said about working with me. Like what you read? Get in touch.
James hit the ground running with his exceptional knowledge of the sports and media landscape.
James is enjoyable to work with, he added value to our team, slotting in seamlessly to our approach to planning and developing each year's campaign. As a result we saw a huge increase in our social media following, press coverage and, most importantly, we witnessed State of Mind become embedded in to the culture of Rugby League.
– Simon Howes
CALM
---
We can trust that they will deliver quality content, on time, meaning a seamless experience for our audience. Their expertise in the media and their flexibility make them a valuable extra resource to the team.
– Anthony Jepson
Basketball England Director of Comms
---
This is EXACTLY what I was after. I have to say I'm pleasantly surprised as the last time I tried a writer I didn't know I had a few "issues" with them but you clearly got the brief here.
– Oliver Brett
BetConnect
---
Working with James and the Love Rugby League brand during Kingstone Press' first season as title sponsor was a great way for us to get our product in front of the rugby league audience. It gave us great brand exposure and provided lots of content for social media channels. The objective for Kingstone Press during year one of the rugby league sponsorship was to get to know the clubs, fans and players and to establish us as a credible and genuine sponsor. Through working with James we have been able to do that.
– Sarah McConomy
Kingstone Press Brand Manager
---
I worked closely with James on the partnership between Manchester Giants and TickX. James demonstrated huge passion in his role with the Giants. James was great to work with, he was professional, made sure actions were followed up and was analytical in his approach, he was not afraid to challenge areas in which he needed clarification on. James has a strong understanding of the Manchester Giants and Sports Marketing, and was confident and assured in queries I had for him.
– Mitesh Mistry
TickX
---
Following the service that James provided on the British Ice Hockey and 9gc website projects, I had no hesitation in asking him to revamp the 9 Management platform. Dealing with clients throughout the world, it's important that 9 Management has a strong online presence and a platform that is easy to use not only for our customers but also our clients. I would highly recommend James to anyone.
– Gareth Chalmers
Glasgow Clan Ice Hockey / 9gc
---
James was our main contact whilst we were negotiating and realising our sponsorship deal with local pro basketball team Manchester Giants. Whilst a small organisation compared to some of the better-funded British basketball teams, James brought a professionalism to the discussions which may otherwise have been absent.
Sports sponsorship is not something that we had done before so, in our naivety, James could have taken advantage whereby we could have ended up with a poor deal; however, I feel that he was fair and flexible throughout the process resulting in a good deal for both sides; he was also available as necessary to discuss and refine any issues.
On a personal note, James is a friendly face and easy to talk to – and, importantly, is full of imaginative ideas about how to try and improve things from all angles. The video he produced with us was much easier than I had anticipated, done in an unobtrusive and friendly way to help try and calm my nerves! I wouldn't hesitate to work with James again, should the opportunity arise.
– Rob Bell
Sale Engineering
---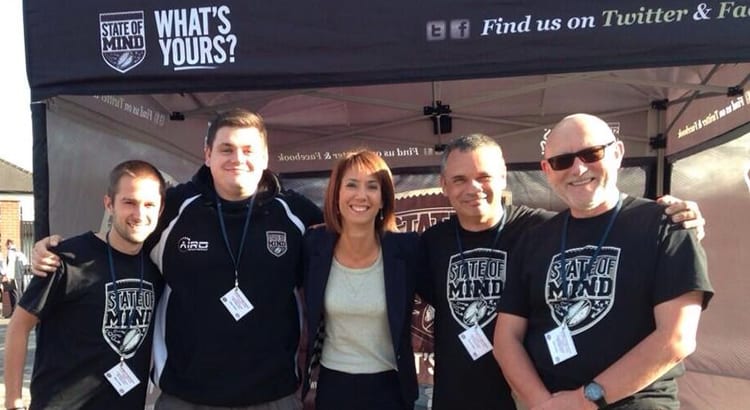 State of Mind commissioned James Gordon to oversee and develop our Media Strategy for the raising awareness and tackling stigma campaign
We were delighted with his efforts and what he achieved on our behalf. 
The media  coverage was comprehensive and included print, TV and radio and also innovative social media including facebook and twitter.
My colleagues and I were impressed with the quiet but assured manner in which he went about his work and how he readily kept us informed and reviewed progress
We are confident that the substantial media exposure achieved an increase in the likelihood of commercial support for our future campaigns.
We are happy to acknowledge  the professional and high calibre outcomes achieved.
Malcolm Rae
State of Mind Programme Director