Sports Betting or Online Casino Games, That is the Question
Although sports betting and casino games are pretty similar, there is a big difference in the way that you place your wagers and calculate your winnings. Are you wondering what option is the best for you? If so, then you have certainly come to the right place as below we are going to compare the two, so that we can hopefully give you a good idea as to what is the best for you.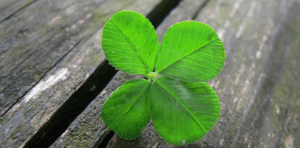 Does Luck Play a Huge Part in Both?
If you have played casino games before then you will almost certainly have heard of the term "house edge". For those who do not know what this is, it is the advantage that the casino, whether land-based or online, has over their players. The house edge is what helps casinos to make a profit and stay open. Although the house always has the advantage, lucky players are still able to walk away with a tidy profit when playing the games that are on offer.
When it comes to sports betting, the odds are calculated based on the chances that something will happen. For example, the chances that a team will win a particular football game, or the chances that a boxing fight will go the distance. In order to stay in business, bookmakers keep a percentage of the betting proceeds, that is known by sports betting fans as the "vig" or "juice". The sportsbook will take this commission from the losing side of the bet.
The big difference between playing casino games and betting on sports is that you need to get lucky to win casino games. However, when it comes to sports betting, you can improve your knowledge of a certain sport, make educated bets, and improve your chances of winning. We are not saying that luck is not involved with sports betting, but there is definitely a lot less luck than with online casino games.
Are you from New Zealand and are looking for a top-quality online casino to join so that you can have plenty of fun? If so, then your luck is in – click on the link provided and you will be taken to site that will help you find the best online casino for you as well as provide you with extremely valuable information about different types of casino games.
Do I Get More Playtime with Casino Games?
You can obviously only bet on a sporting event when it is being played. Live betting is a very exciting type of sports betting as it allows sports betting fans to put their money on their desired outcome when the event has started. The immediacy of live sports betting is what makes it so popular among those who enjoy betting on sports.
On the other hand, online casino games are available 24/7 and every single day of the year, meaning that you can satisfy your online casino gambling urgers whenever they arise, even if it is the middle of the night and you are only in your underwear.
However, when you sign up with a sports betting site, you will have access to sport events across the world. So, if you pick a couple of sports and educate yourself about them, you can ensure that you can place sports bets whenever you get the urge. For example, when there is no cricket being played in the Northern Hemisphere because it is winter, you can turn your attention to cricket in the Southern Hemisphere as it will be summer down there and you will have plenty of cricket to bet on. The same applies for sports such as football, tennis, and golf.
So, you will be able to get more playtime with casino games, but you will certainly not struggle to find things to bet on when it comes to betting on sports.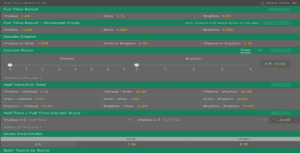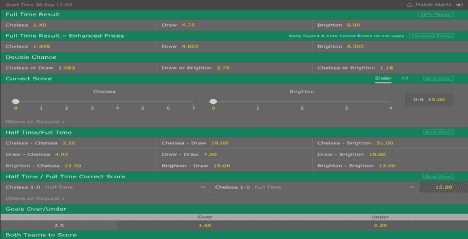 Which Form of Gambling Provides More Betting Options?
This is quite a difficult question to answer. Nowadays, the number of markets available for sports at sports betting sites is unreal. The online gambling industry is really competitive, so bookmakers have to make sure that they offer plenty of different markets in order to ensure that their customers stay fully entertained and do not decide to take their money elsewhere. Therefore, at some bookmakers you can find hundreds and hundreds of markets for the sports that they offer.
When it comes to online casino games, the selection of games available is often quite staggering. There will be an endless variety of slot games and more than enough varieties of poker, blackjack, roulette, and craps. To add to this, you will often find bingo, scratch cards, and lottery games.
So, although it is tricky to determine what type of gambling provides the most betting options, there is one thing that is certain and that is that you will not get bored whether you are betting on sports or trying your luck at some online casino games.
Which Type of Gambling Involves More Strategy?
The last question was tricky to answer, but this one is very simple. Sports betting, without a doubt. Unless you happen to be one of the luckiest people in the world, you will have to learn about a sport and do some homework if you want a good chance of winning some money. If you are new to betting on sports, then you should stick to the likes of tennis or Formula 1. Other sports such as football, cricket, or rugby are a bit more complicated, and you will have to get to grips with the rules, players, teams, transfers, and so on.
On the other hand, you do not need any prior knowledge when you are playing slot games or scratch cards. You simply spin the reels or scratch away, and hope that Lady Luck is smiling on you. However, there are some online casino games where having a strategy comes in handy and this includes the likes of blackjack and poker. If you make use of a strategy when playing these games, then you can drastically increase your odds of winning.
Verdict
So, your decision should ultimately boil down to what you want to get out of your gambling. Do you possess the patience to learn all you need to know about a variety of different sports? This is something you have to do when betting on sports as it will help improve your chances of winning. Or, are you after some entertainment and are happy to play for fun while hoping that Lady Luck is smiling on you? If you still cannot make your mind up, then you should give both a try. If you have been playing slots for a while now and are not sure if sports betting is for you, then trying it out for a bit is a great way to see if it is your cup of tea.