It's very much felt like the end of an era stepping away from a website that I created back in 2005 and that has provided me full-time employment for the past five years.
The time has come to free myself of Love Rugby League, and also enable it to find a new direction.
Back in 2005, I was a college student who had a dream of becoming a sports journalist. After some work experience at 4thegame.com, I was inspired to create a rugby league website to fill a gap in the market.
The theory was it would help put me in the shop window for jobs, the irony being it probably turned me in to a competitor of the places I wanted to work!
When I started my business, JDG Media, in 2010, Love Rugby League was one of the key parts and a revenue generator. At the end of 2017, I sold it on to Planet Sport who took over the commercial and technical sides, providing me with a salary to run the editorial.
It has been an incredible journey filled with some great memories, ups and downs.
BELOW: Video filmed in 2018, to celebrate 13 years of Love Rugby League:
The site started as a pretty simple HTML website, where every page had to be created by me (in Dreamweaver!) and then uploaded to Filezilla. Soon after, it became a bit more sophisticated with the implementation of the CutePHP CMS which made adding news articles a little less laborious.
Around 2007, the entire site was hacked and deleted while on the Mambo platform (an early off-shoot of Joomla), and I very nearly gave up – my girlfriend at the time persuading me otherwise, after I had opened up to her the previous week about the dream I had for the site.
In the early years, we had a forum that enabled me to meet a number of rugby league people who would help out in various ways. One of my regrets is not keeping the forum going, as I'm sure we could have developed quite a community had we retained that, though of course the competition from RLFans was fierce.
The site was initially known as Last Tackle – though it was originally going to be In To Touch, only for someone to pinch the domain (first lesson learned!) – and during a trip to watch Widnes in Toulouse in 2009, I dreamt up the brand Love Rugby League.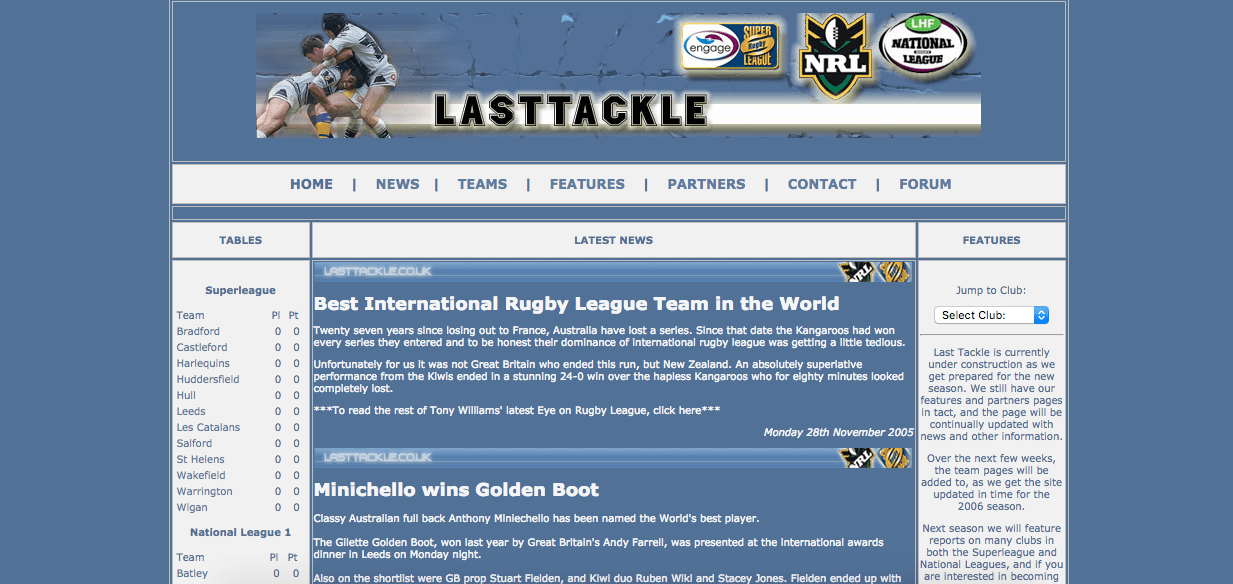 The idea was that it would be stronger for SEO, but also create other opportunities such as merchandising and holding events. In truth, I never quite explored those streams as much as I'd have liked.
We did set up a shop in the early days and I remember getting a huge order of branded merchandise, which we did eventually sell out of – bar a 3XL pink hoodie! My dad still tells people he was a model.
In those days, my friend John Flanagan was heavily involved, particularly in the development side. He built a live scores system as part of his university assignment, and that enabled us to become the quickest provider of live scores – believe it or not, using manual input! We would have someone working on each match night, inputting line-ups and scorers using information from people we knew at the games, listening to the radio or checking social media.
One of the battles in the early years was gaining RFL accreditation. I constantly hit a brick wall around this, despite the fact I was trying to run the site professionally and was a training journalist. It was only after a meeting with John Ledger, the then RFL media manager, where I pled my case did we get somewhere. He promised accreditation for me and one other, and that was extremely helpful to getting things moving and it helped highlight that we were trying to be a professional media organisation, not just a fans' site.
Social media was in its infancy when Last Tackle launched and so building the audience in the early days was difficult. The social impact of rebranding to Love Rugby League was a key driver, and our Facebook page remains one of the most engaged sports pages I think I've ever seen. We grew it steadily over the years, and our coverage around the 2013 World Cup really got it moving.
The 2013 World Cup was a particularly fond memory of mine. At the age of 25, it was my first real foray in to the international sporting world and I got to cover matches at a range of venues, including the Millennium Stadium and Old Trafford. It was more the fact I was covering games most night – doing previews, match reports, live updates in the game – that I got the buzz from. I remember working all day in the office on a Wednesday and then leaving at 3pm to drive to Bristol to cover a game there that evening.
Monetising the site was always a challenge, though we did have some really good partners at times and it was good to work with them and experience different things. Visiting the Aston Manor brewery to do the deal with Kingstone Press was good, as was being involved in Foxy Bingo's judging panel for their fan competitions. We did plenty with Batchelors Mushy Peas and also Betfred, whose sponsorship really helped keep the site afloat ahead of the Planet Sport purchase.

There were some tough times too. It was underpinned by my wider business in many ways, and I had to make sacrifices to keep Love Rugby League going. The support of people like Gavin Wilson, who adopted the brand and actually came close to opening a Love Rugby League shop, helped keep it afloat.
I made the decision to stop relying on volunteers in the early 2010s, once Love Rugby League had 'gone professional' as I called it. It proved a struggle finding the right (affordable!) people for the site, though gradually it came starting with Zack Wilson.
With me increasingly busy with a few other interests, notably in basketball, I brought Drew in ahead of the 2017 World Cup and that proved a success – as he came with me as part of the Planet Sport deal and ended up going full-time. Josh, who had been with JDG Media previously, switched full-time to Love Rugby League for 2022.
Visiting Barcelona to cover a game in the Nou Camp in 2019 was an unexpected treat as a rugby league journalist, and I thoroughly enjoyed a trip to Carcassonne later that year to cover their version of the Magic Weekend.
Unfortunately, COVID hit just as we were really hitting a high with the site and that set things back. On a personal level, it probably sucked more life out of me than I thought. I was furloughed, and so for probably six months, was unable to write for the site. That was hard. It probably dampened my enthusiasm more than anything else. Getting back in to the swing of things after that was also difficult.
There were numerous challenges and battles over the year. Being once threatened with legal action (successfully defended against) to the countless number of copycat sites that sprung up, and we had to bat-off. One site even tried to discredit us with a leading Super League club by saying we had given them permission to use said club's logo on their site! Unfortunately, in recent years, the rise of click-bait and the general race to the bottom in the online publishing industry has made it incredibly difficult for anyone wanting to commercialise a website doing things properly.
As someone who had always grafted hard for the site, it was a challenge adapting to being part of a bigger business. Not being able to make technical changes or data amendments as I would have liked were tough. Trying to evolve to become a 'manager' rather than a 'doer' was also a challenge. I have my own style, and I like to stick to that.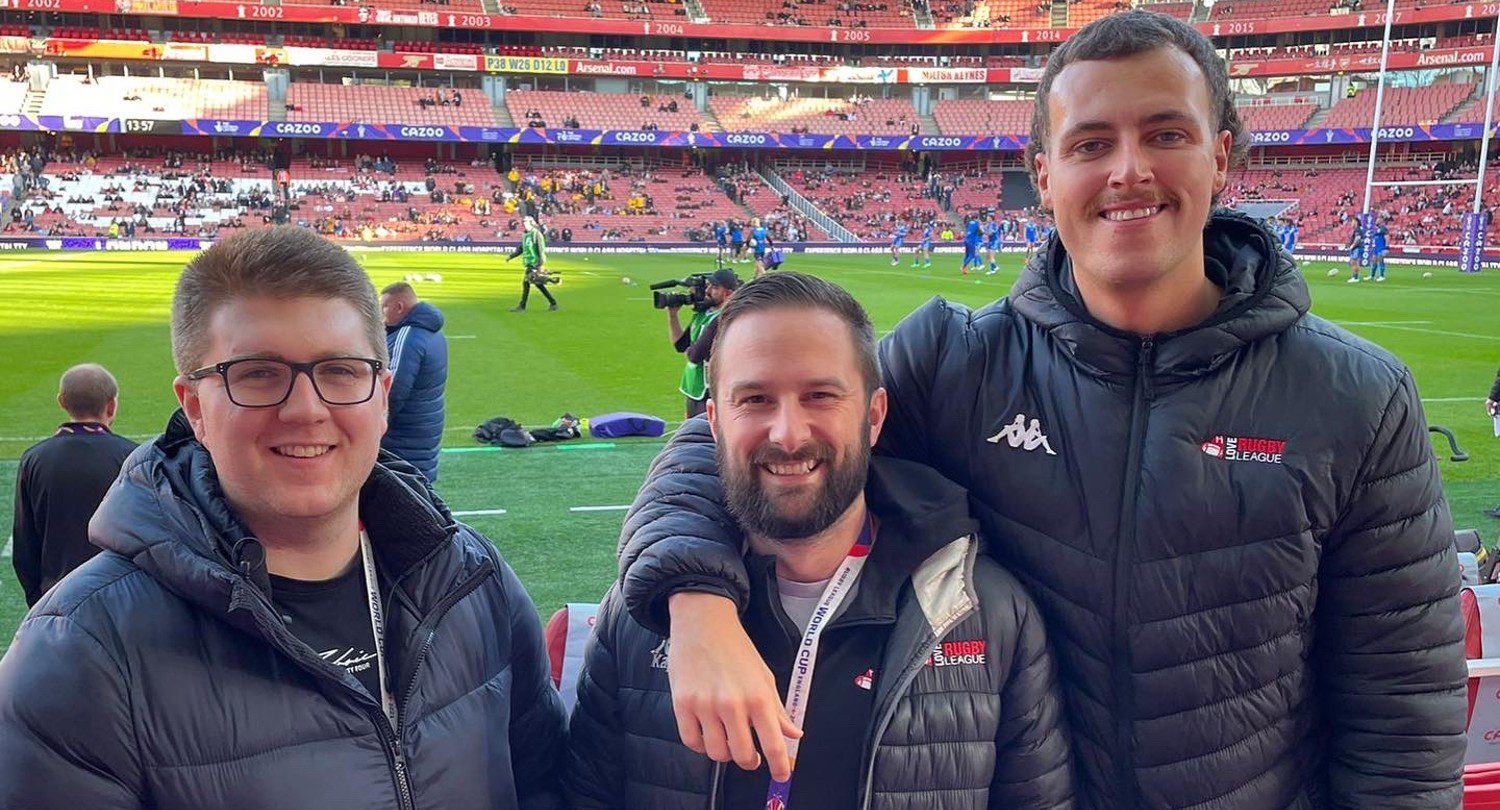 Being a mentor for Drew and Josh has been a pleasure. To be able to advise them and guide them to be better has given me great satisfaction. Pushing them to do things that maybe my own anxiety prevents me from doing.
It's been great over the past year or so being able to cover events and games as a trio, giving some real proper coverage. There are some things that for whatever reason I've not been able to do, that I would have liked to have done, but it had probably been hitting me for a little while that maybe I had taken things as far as I could.
To go from scratch to a site that is attracting 15m+ pageviews is an achievement I can always hang my hat on.
It was pleasing to get many messages on social media after announcing my departure, particularly from people who had spent some brief time with us on placement or as freelancers early in their careers. That was probably one of the most humbling things about the messages, as well as getting some from respected peers both from the UK and in Australia.
Shame that mate, will be a huge loss for the game online and especially for the muppets and chancers out there who have ridden on the back of your hard work, investment and genuine Love of Rugby League.
Chapeau to you mon ami and all the very best in the future.
❤️💛

— Catalan Media 🇨🇵 (@catalanmedia) June 19, 2023
Running the site was always far much more than 'a job'. The site was born out of my enthusiasm and love for the sport, and I am ferociously proud of being from its heartlands.
It enabled me to work as a sports journalist, but still have the time to watch my own team home and away, something I was never willing to sacrifice (though that may have changed these days!!).
The Love Rugby League brand meant a lot to my family also. My sister worked full-time for JDG Media for many years, and even before and after that, she was critical to the operation of the Fantasy Rugby League game and also the endless amount of data.
My dad was the brand's biggest ambassador, wearing whatever Love Rugby League merchandise he could get his hands on, wherever he went.
After such a long time – more than half of my life – it is a quite strange feeling to be with it no more. But it's time to bid farewell, and move on to pastures new.
As the late Harry Gration used to say at the end of BBC's Super League, enjoy your rugby league, we do.