What is it that makes English sport stars synonymous with injury?
Go back to 1998. Young English striker Michael Owen announced himself on the world stage with that goal against Argentina in the World Cup, in a game that also saw David Beckham famously red-carded, and Sol Campbell inexplicably have a goal disallowed that cost England a place in the quarter finals (in which we would have probably lost anyway).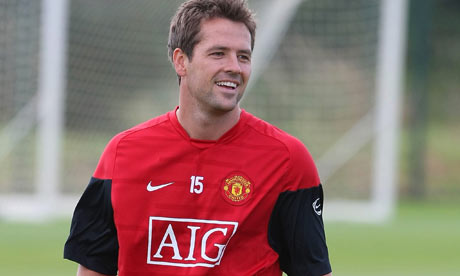 A few successful years at Liverpool followed. But as expectations grew on him both at club and England level, the injuries started. And then both teams' dependence on him often saw him rushed back from injury before he was fully fit. The fact England's only other world class strikers in the past decade have been Alan Shearer (who retired from international football after Euro 2000) and Wayne Rooney has meant Owen's had a lot on his shoulders. His record at international level is superb, 40 in 89 games.
His injury "problems" continued at both Real Madrid and Newcastle, and his World Cup dream in 2006 was ended by a horrific knee injury against Sweden. But having started his Manchester United career with a goal, maybe the weight of expectations will be lifted as he gels with a team of world class stars, playing alongside Rooney and Dimitar Berbatov who will no doubt share the goalscoring burden for the Reds.
Maybe, just maybe, Owen can find his peak form in time for the 2010 World Cup.
But it's not just Owen, or indeed football.
This week saw the announcement of Andrew Flintoff's impending retirement from test cricket. Flintoff is one of the best cricketers of his generation and will be most remembered for his part in the 2005 Ashes triumph. His value to England was vast as an all-rounder. He could line up as a top six batsman and still take the new ball for the bowling side. It meant more flexibility with the rest of England's selection, and thus when he was out, both the batting and bowling options were hit, as the England set-up could only name a specialist replacement in one of those areas, not both.
But it meant that when Flintoff suffered injury set backs, he was rushed back, owing to his sheer value to the side. The same as Owen. And it has resulted in him having a sporadic few years. Here's hoping he can at least salvage the remainder his career in the one-day or Twenty20 game, rather than carrying the repuation of an injury plagued star.
But it's not just Owen and Flintoff, football and cricket.
Jonny Wilkinson has rarely enjoyed a sustained run of rugby since kicking that drop goal in the 2003 Rugby World Cup final. He sealed his position as the best player in the world with the drop goal that brought England's most glorious day since 1966. But after that, he suffered with injury, and both Newcastle and England kept rushing him back, only for him to suffer further setbacks, yet again owing to his value to their respective sides.
He's now moved on to French side Toulon. Perhaps he can kick-start his career again. He will go down in the record books courtesy of that drop goals, but had he played consistently over the years, he could have been remembered for being one of the greatest rugby players of all time. After 2003, he was one of the most recognisable sportsmen in the country, probably only below David Beckham. And a fit Jonny Wilkinson probably would have boosted English rugby in terms of attendance. But it wasn't to be.
And again, it doesn't stop there. Rugby league star Paul Sculthorpe was another player who was at the top of his profession. The former Great Britain and St Helens captain retired last year after being plagued with injuries for a number of years. His importance to the Saints side gradually reduced over the years as they got used to not having him in their side, but still there was a lot of pressure on him when he did return.
So probably the four greatest Englishmen in their respective sports in this generation have been left frustrated by injury plagued careers, mainly down to the pressure put on them by fans and clubs, who ultimately are trying to appease the fans. It's this pressure that sees us disappointed everytime the footballers hit the World Cup or whenever Tim Henman used to turn up at Wimbledon.
But, will it ever change?