It's a phrase that's been uttered in many a marketing meeting – "make it go viral".
But is going viral, and even social media engagement in general, overrated?
It's been a question I've pondered for a while, and its come to the fore again with the rise in popularity of TikTok, with an increasing number of sports organisations now trying to jump on the new trend.
We've seen it before with Snapchat and Instagram, and of course the old staples of Facebook and Twitter.
The British Basketball League recently announced a partnership with TikTok – and this was reported on by basketball expert Sam Neter in a recent Hoopsfix newsletter (below).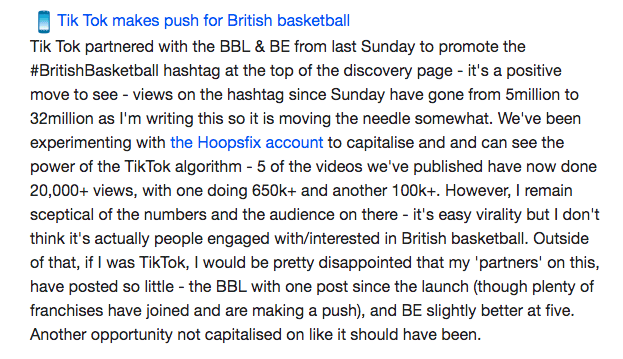 Putting aside the validity of what a "view" actually is – an issue many still face with Facebook videos, for example – the question remains just what value do those figures actually have?
In the modern throw away society, where even dating sees you swipe until you see something better, there simply isn't the same loyalty given there are so many things competing for your attention.
You might see a great TikTok video from the BBL, but does that necessarily mean you'll seek out anything else BBL related? Or will you just wait until you see another video you like?
We've all done it. Engaged with a video on social media, without really noticing where it's come from or what it stands for.
Have enjoyed experimenting with the @Hoopsfix account – wanted to capitalise on the hashtag being featured on the discover page.

7 day results:

2800 followers
Just short of a million views
82k likes
7 videos with 20k+ views
1 video with 700k+ https://t.co/UMiAE9iVlW pic.twitter.com/rr6qmbXfzv

— Sam Neter 🦏 (@SamNeter) January 25, 2021
So do those figures actually result in any real success for sporting organisations?
And that success is surely measured in terms of ticket sales, viewing figures of live games, sponsorship revenue and secondary spend, such as merchandising.
There is no doubting that social media is a driver for sports teams, but the concern is by adopting every new fad that comes along, they are spreading themselves too thinly and maybe trying to chase numbers that don't actually convert to their business goals; which ultimately is people paying to either watch or play their sport.
Going big works for the elite sports – AS Roma proving their social media worth on a consistent basis – but for those lower down the food chain where every penny counts, and attracting ticket sales and sponsorship revenue is critical to mere survival, the focus must be on getting the basics right first.
It remains to be seen if this partnership can propel the BBL to where it wants to be – or if spreading the already small resource even thinner does more harm than good.